The Bookshelf
reviews by Bill Fawcett
---
Wild Game Cookbook
compiled and edited by Judith Bosley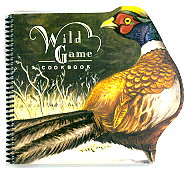 Wild Game Cookbook is one of about 20 specialty die-cut cookbooks compiled and edited by Judith Bosley. So right away I'm dubious; I've seen far too many cookbooks that suggest that all game must be cooked extra well done. Or soaked in vinegar for 24 hours. Gaaaack!
Well, Bosley has done her homework. Or at least she has collected recipes from someone other than my in-laws. The majority of the recipes seem to be very reasonable, and perhaps a few will work their way into my repertoire. And although you can see some regional influences, it does seem to have a broad appeal. No "Quail and Tofu" recipes, in fact, no Quail, but I guess that can be overlooked.
Starting out with a section on wild game birds there are a good number of duck and pheasant recipes. Some are not recommended by the American Heart Association, which means that they are good! Seriously, one recipe for four pheasants called for 3/4 # of bacon, 1/2# of butter and 1/2 pint of cream. Excuse me while I do my Homer Simpson groan of delight.
There are a fair number of good recipes, many of which do use the technique of added fat which is necessary because the game is so naturally low in fat content. And many of the recipes call for frying (quick cooking), which again seems to be a very good way to prepare many varieties of small game. Mixed in with that are the usual complement of casseroles and I was also pleased to see recipes which incorporate sausages. These include "Sarah's Duck and Sausage Gumbo" and "Pheasant & Sausage Boiled Dinner". I'm always ready to try new tastes, and those recipes are not common in my part of the country.
Venison recipes dominate this book- I counted almost 50 of them, including many also good with Elk or Moose . Since my son and I put up about five deer a year, I expect some of these recipes will come in handy to break up the monotony. It is easy to get into a rut, and here the new ideas may be helpful.
And there are about 30 fish recipes. I will not be trying the "Carp with Paprika" anytime soon, but the rest of them looked pretty good.
Over the years my wife and I have collected a lot of community compiled cookbooks which were projects of various rural churches, many in Pennsylvania where hunting itself is a religion. I've seen a lot of poor game recipes, as mentioned earlier. This cookbook is definitely a step up from that, which is a testimony to the editing prowess of Judith Bosley.

Roast Duck with Kay's Stuffing
2 ducks
1/2 C. sliced celery
1/2 C. chopped onion
2 medium apples, diced
4 slices bread, cubed
1/4 C. raisins
salt and pepper
sage to taste
1 C. poultry broth

Soak ducks overnight in salt water; drain and place in a roasting pan. Add 1/2 of broth over dressing ingredients and set aside; pour remaining broth over ducks. Roast ducks at 325 for 1 hour. Place dressing around ducks and roast for 30 minutes more, or until meat is done, adding more broth if needed.
Copies available through:
Judith A. Bosley
Author-Publisher
P.O. Box 7
Middleton MI 48856
Phone: 989.875.4674 - Fax: 989.875.8774
Email:

Copyright © Judith Ann Bosley
First Printing June 1999
All Rights Reserved
Printed in the United States of America
ISBN: 0-930809-25-4


Bill Fawcett has been "messing with bird dogs" for 23 years and lives in the Shennadoah Valley of Virginia with his wife Cindy and their Springer, Jenna. He also maintains the Smythwicks Pedigree Repository, a public FB ESS database.


Page 1
| Spaniel Journal | Archived Book Reviews |