I feel so honored to have been asked to judge this test for the Artic Bird Dog Association. I am also very pleased to see the growth of this club, and foresee that it will continue on its healthy path. Two local members were apprenticing; Hilda Stapdens, who has German Wirehaired pointers, and John Montooth, who handled his English Springer Spaniel, Jewel, to a Master leg. I predict that they will both be a fine addition to the growing number of judges in their area.
John Montooth and Jewel
Earned 1 Master Leg
Jason and I agreed that it was so refreshing to see the camaraderie between the club members. The pointer people were out there gunning, planting birds, helping with lunch and being so supportive to their spaniel friends who were busy running the dogs. We were very impressed to see different kinds of dog people all enjoying each other's company and helping to make the event a success. The club is growing with the addition of two new (American) imports; Scott Arko with Kobuk, and Jeff Lipscomb with (another) Jewel. Both are avid hunters, have very nice dogs, bringing with them the experience and knowledge that they have gained while living in the "lower 48". Scott's parents were active field trialers in the 70's and 80's. Jeff has been under the tutelage of Ralph Botti for the last few years. We both want to thank all of you in Anchorage, Alaska, for your kind hospitality. Good luck to the future and great hunting!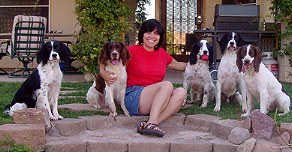 Cheryl Sligar and her husband, Jerry, have been avid field trialers since 1982. They reside in Nevada with their six springers, four of which have earned Field and/or Amateur Field Championship titles. Their website is www.westwingsess.com.


Alaska Photo Album
Sherry and Derek Tomlinson
with Saddie

Jeff Lipscomb and Jewel
Earned 2 Master Legs

Mike Kasterin and Sky
Earned 2 Master Legs

Art Arians and Angus
Earned 1 Master Leg

Derek Tomlinson and Basil
Earned 2 Master Legs

13-year old Jessica Stewart
with her dog, Chaps

Tim Verrett and Abbey
Earned 1 Junior Leg
Page 4
| Spaniel Journal | First Page | Previous Page |