Birds on a Shoestring
by Don Smail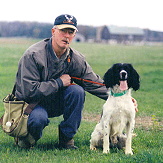 When I first became interested in training springers and in field trailing during the mid-1970s, I was mostly on my own. The help I received was from Talbot Radcliff, David Michael Duffy, and Charles Goodall via their excellent books. The books served their purpose, but there was only input from the books. I couldn't ask questions.

After steadying a dog for hunting by using British methods, I became interested in America's standards for field trials: a strong flush but still steady. I encountered breaking problems. Having a hard charging dog sit at flush as I was shooting the bird and still maintaining control after the shot became a real challenge. I began to worry that I might "shoot" my whistle and blow my head off trying to "tweet" my shotgun. It was at this time that I joined the Minnesota field trial club.

At one of the clubs spring trials, I was conversing with a fellow club member, Terry Arko, about the breaking problems I was having with my dog. He proceeded to describe how he steadies his dogs by using a pigeon pole, which consisted of a live bird attached to a pole with a rope.

"The pole teaches the dog what it is supposed to do."
The pigeon pole is simply a variation of the "wing on a string" used by pointing dog people and also by Roy French. The most significant advantage of the pole is that of maintaining control of the steadying process. A breaking dog will not receive the reward of a retrieve nor will there be a long chase. The pole makes it possible for the dog to be easily caught and corrected. There are additional advantages. Fewer birds will be necessary and much of the steadying can be done in the backyard if training grounds are not readily available.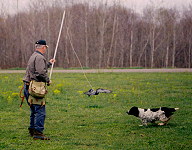 Most of the equipment needed for training with a pigeon pole may already be at hand. I use two sections of a snow rake used for removing snow from a roof, total length about ten feet. Attach one end of a six-foot length of 1/8" rope to the pole and the other end to a bird harness. I drilled a hole near the end of my pole. Running the rope through this hole before tying it prevents the rope from sliding off. A bird harness can be purchased from a supplier of dog training equipment. I prefer the leather harnesses with Velcro fasteners rather than snaps. I have one each of the pigeon and pheasant sizes. Whether there are spikes on the harness may depend on the dog. I prefer harnesses without spikes. When the dog is ready, the pigeon pole becomes a pheasant pole. Tying a swivel snap to the end of the rope facilitates changing harnesses.

Page 1
| Next Page |